Celebrity Skin Care Secrets Revealed
Celebrity Skin Care Secrets Revealed
Published on November 10, 2015 by
Dr. Anthony Corrado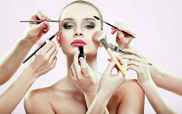 A sneak peek at how these celebrities get so beautiful. Their get-gorgeous tricks are a little more surprising that you might have guessed.
HALLE BERRY
This A-lister's anti-cellulite treatment tactic: ground coffee. The actress adds ground coffee to her body wash in hopes that caffeine and mild exfoliation it offers will help to increase blood flow and smooth the skin.
HILARY DUFF
The new mom and actress has said that she uses a refreshing anti-oxidant spray before she puts on her foundation—and also throughout the day, saying it makes her face glow.
KATE MIDDLETON
The Duchess reportedly received a bee venom facial before her wedding, that is supposed to be a needle-free shortcut to youthful, line-free skin.
LADY GAGA
Ever wonder how this singer walks out on stage without glitter flecks all over her face? Sellotape (aka Scotch tape). After her makeup is done, clear tape is used to clean up any flecks that have fallen onto her cheeks—and apparently it works like a charm!
RACHEL BILSON
The Hart of Dixie star and guest editor for Piperlime says she turns to Vaseline to remove her makeup. She says it just works really well—especially when you're removing eye makeup—and it's gentle on the skin.
EMMA STONE
The Spiderman starlet recently said in an interview that her allergies prevent her from putting many products on her skin, so she uses natural grapeseed oil from the grocery store. She uses it on her face as a moisturizer, applying it after the shower and then uses it throughout the day and at night.
SHAKIRA
Shakira reportedly skips the adult SPF and goes straight for the baby formulas when it comes to protecting her sensitive skin from the sun. She says she keeps her skin youthful by swiping Vaseline under her eyes every night to prevent wrinkles and fine lines. She uses a quarter of a teaspoon under each eye.
EVAN RACHEL WOOD
Evan recently revealed that she uses olive oil-based products in her beauty regimen. She said that she uses it to take off her makeup at night and then leaves it on as a moisturizer, which is great for her sensitive skin.
MARIAH CAREY
Mariah plumps up her pout the au naturel way: with mint extract, which she mixes into her gloss to get blood flowing to her lips.
These are just a few of the "tricks of the trade" that celebrity A-listers use to keep looking beautiful. If beauty is your goal, a consultation with board certified facial plastic surgeon, Dr. Anthony Corrado, is your key to looking as young as you feel!
Dr. Corrado serves patients from the greater Delaware Valley area such as, South Jersey, the Jersey Shore, Philadelphia, the Mainline, and Delaware County. He also offers care for out of town patients as well. Dr. Corrado offers the latest advances in the fields of facial plastic and reconstructive surgery and cosmetic surgery. He provides his patients with the full spectrum of facial cosmetic and reconstructive procedures. His areas of special interest include laser skin resurfacing, facelift, mini facelift, neck lift, blepharoplasty, and facial fat grafting. Schedule your consultation with Dr. Anthony Corrado by calling 1 (877) 481-FACE (3223).
*Beauty secrets courtesy of eonline.com, cosmo.com and allure.com