Dr. Anthony Corrado – Compassionate Doctor Award Philadelphia
Dr. Anthony Corrado – Compassionate Doctor Award Philadelphia
Published on March 24, 2014 by
Dr. Anthony Corrado
Patients Honor Facial Plastic Surgeon Dr. Anthony Corrado
for Vitals Compassionate Doctor Award
Stratford, NJ (PR Newswire) March 23, 2014 – Vitals is pleased to announce that Dr. Anthony Corrado has been honored with the prestigious 2013 Compassionate Doctor Award.
Dr. Anthony Corrado, medical director of the Corrado Face & Nasal Institute in Stratford, NJ, is ranked among the top physicians in the nation based on patient reviews.
The accolade, which recognizes physician excellence, is given only to doctors who receive outstanding patient reviews throughout the calendar year. Of the nation's 870,000 active physicians, only 3 percent were accorded the Vitals Compassionate Doctor Award in 2013.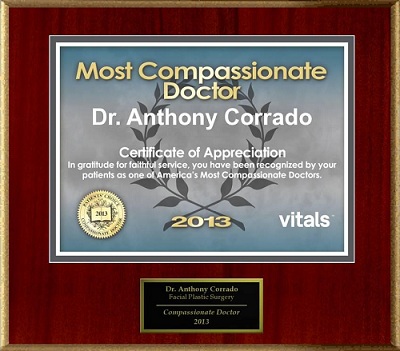 Filed under:
dr. anthony corrado, vitals 2013 compassionate doctor award, awards, top physicians