Fat Grafting – Philadelphia Facial Rejuvenation
Fat Grafting – Philadelphia Facial Rejuvenation
Published on October 25, 2013 by
Dr. Anthony Corrado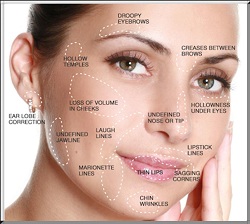 Laugh lines, smile lines, and hollowing in the under-eye area result when the underlying tissues that keep our skin looking youthful and full begin to break down. To correct these effects, fat can be removed from the abdomen, thighs, or other areas and transferred to areas of the face.
Fat grafting is a great way to restore a refreshed appearance quickly and painlessly under local anesthesia and with minimal downtime. Fat transfers have thus become a much more effective and subtle way to rejuvenate the face. Many times, a fat transfer procedure can "buy a patient time" prior to having more-invasive procedures such as a facelift.
Benefits of fat grafting as compared with implants and/or dermal fillers:• Fat grafting will not cause an allergic reaction.
• Fat grafting is safe and cost-effective.
• Fat is a natural, living filler.
• There is no risk of disease transmission.
• Fat is more permanent than manufactured fillers.
• Most patients have abundant stores of fat available.
• Grafted fat becomes permanent living tissue.
Areas where fat grafting is effective:
• Face: temples, cheeks, forehead wrinkles, around the mouth, lips, laugh lines, jowls, jaw line, and chin
• Eyes: to correct hollows under the eyes and to fill the "tear troughs"
• Scars: to fill depressions from acne, trauma, or surgery
• Hands: to fill wrinkles and depressions on backs of hands due to aging
• Buttocks: to give a more-pronounced and rounded appearance
• Liposuction: to fill defects from overly aggressive liposuction procedures
• Breasts: possibly in place of manufactured implants; research is ongoing
After the fat grafting procedure, standard dressings, tape, and compression garments are applied to the treatment area. Swelling and bruising is likely, but over-the-counter pain medication should alleviate any discomfort and will resolve after 2 to 3 weeks. The injection sites may be slightly overfilled at first to compensate for fat that is naturally absorbed by the body.
Dr. Anthony Corrado, a board-certified plastic surgeon serving the Philadelphia area, uses fat transfer for a number of different facial enhancements. He can fill in sunken and creased areas of the face or add fullness to the lips and cheeks. He can also minimize lines between the nose and mouth, correct skin depressions or indentations, and minimize forehead wrinkles using this technique. As it is your own fat, there is no risk of rejection. Results can last for years, as compared to the usual six to 12 months for normal fillers.
To learn more, contact our office in Philadelphia to set up a consultation.
Filed under:
fat grafting, facial rejuvenation, wrinkle removal, volume