Male Rhinoplasty – Nasal Surgery Philadelphia
Male Rhinoplasty – Nasal Surgery Philadelphia
Published on March 5, 2014 by
Dr. Anthony Corrado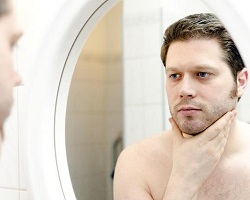 Male rhinoplasty alters the shape and contour of the nose for both aesthetic and medical purposes. An increasing number of men are opting for this surgery, and it is no longer considered a "female-only" cosmetic procedure.
Is rhinoplasty appropriate for you?
For those under 16, the cartilage in your nose is still growing and changing, so rhinoplasty may not be the best option. If you are over 16, rhinoplasty may very well be a viable solution. Dr. Corrado of Philadelphia's Corrado Face and Nasal Institute will consult with you to discuss any health-related issues and your desired end result.
Does male rhinoplasty differ from female rhinoplasty?
The procedure itself is the same, and the differences lean towards the cosmetic outcome. Though bone structures are similar, men tend to want a strong, more defined nose, whereas females tend to want a daintier, less prominent nose.
Male rhinoplasty differs slightly, with male noses presenting structural and bone density challenges not found in females. The surgeon must be cognizant not to create a nose that appears pinched or narrowed. This is more difficult with men due to the subtle differences between the two structures. It is very common to add other procedures onto rhinoplasty for men. Typically, neck liposuction or chin implant surgery is very popular. Neck liposuction helps to better refine a male patient's profile. Chin augmentation surgery helps to correct a weak chin, giving the patient a stronger jawline and a more masculine profile.
Are the risks any higher for male rhinoplasty?
The risks associated with rhinoplasty are the same for men as they are for women. The one differentiating factor that can lead to increased swelling during recovery is that male bones are stronger and denser than female bones, which may require additional bone shaving during surgery. Bleeding may last longer in male patients than in females; however, the period of recovery is the same for both genders.
Dr. Anthony C. Corrado is an accomplished and highly trained Philadelphia surgeon specializing in cosmetic and reconstructive surgery. He has devoted many years to his medical training in order to perfect his surgical acumen. He is double-board-certified in Facial Plastic and Reconstructive Surgery, as well as Otolaryngology-Head and Neck Surgery. His professional philosophy hinges on physician integrity, patient trust, and patient safety. Dr. Corrado believes in natural-appearing results, which promote both outer and inner beauty. Contact Dr. Corrado today to schedule your rhinoplasty consultation and finally get the nose you've always wanted.
Filed under:
nasal surgery, nose job, facial procedures, male rhinoplasty