What Type of Facelift is Right for Me?
What Type of Facelift is Right for Me?
Published on March 2, 2022 by
Dr. Anthony Corrado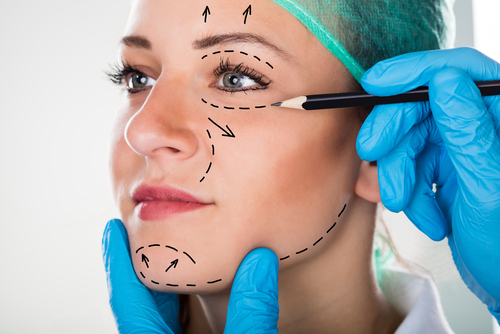 Every face ages differently. That's why Dr. Corrado offers a few different kinds of facelifts to address a variety of facial concerns. In general, all facelift procedures are used to address facial imperfections that are a result of the natural aging process; or changes in the body such as weight gain, loss, or can even be attributed to one's lifestyle.
What are My Options?
Corrado Center for Facial Plastic & Cosmetic Surgery offers four different versions of the facelift which have varying levels of correction and in some cases, may aim to correct a specific area of the face. During your consultation with Dr. Corrado, he will help you decide on the best option for you.
Traditional Facelift & Necklift
For patients seeking a comprehensive solution to facial aging, the traditional facelift addresses the cheeks, jowls and any deep folds or wrinkles. If you have any excess skin, this will address that as well. In the past, facelifts consisted only of pulling the skin to a tighter position. However, Dr. Corrado prefers to approach facelifts in a way that both tightens skin as well as the deeper facial structures; for optimal improvement.
Mini Facelift
A mini facelift is geared towards the patient that seeks a slightly more refreshed appearance by eliminating the appearance of sagging jowls and neck. This type of facelift is perfect for the patient that doesn't need drastic improvement but is bothered by the effect it has on their facial appearance. The procedure requires less surgery than a traditional facelift which allows for a quicker recovery period.
Mid Facelift
The 'mid face' is made up of the area below your lower eyelid to your upper lip. This area of the face is often the first place to show aging, often starting between one's 30's and 40's. At Corrado Center for Facial Plastic & Cosmetic Surgery, we use endoscopic telescopes to allow for the smallest incisions possible. Using this technology helps us to improve the midface without leaving scars behind. Targeting the midface allows us to lift the cheeks which subsequently lifts the areas below it to a more youthful position.
Secondary or Revision Facelift
Not all facelifts are created equal. That's why we offer facelift revision to those who have had a facelift in the past that they are not happy with. Facelifts could need revision for a variety of reasons such as an overdone appearance or noticeable scarring. In general, we recommend that patients wait a period of 9-12 months before undergoing a revision. This procedure is highly individualized and requires a one-on-one consultation with Dr. Corrado for more specific recommendations.
Schedule a Consultation
The best way to find out which type of facelift is right for your needs is to schedule a consultation with Philadelphia area facelift surgeon, Dr. Anthony Corrado. If you are interested in learning more about any of the above facelifts, contact our office today to schedule a consultation.