A Focus on the African American Rhinoplasty
A Focus on the African American Rhinoplasty
Published on March 24, 2018 by
Dr. Anthony Corrado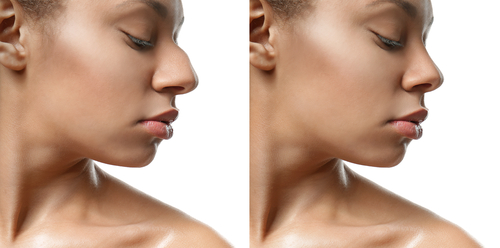 Every patient's nose presents with a unique set of challenges for the facial plastic surgeon. The surgeon needs to be well trained in rhinoplasty to provide a patient a great result. Ethnic rhinoplasty presents a unique challenge, with varying ethnicities presenting with different anatomic challenges. A skilled rhinoplasty surgeon will be well versed in the many anatomic nuances of specific ethnicities and will be prepared to tackle the challenge with a unique set of surgical techniques. As with any rhinoplasty, the goal is to reshape the nose while keeping it in harmony with the rest of the face. However, each ethnic group has unique aesthetic and structural needs that can change the way a plastic surgeon plans and performs a rhinoplasty procedure. African American noses require a specific set of aesthetic goals, so here's what generally goes into planning a rhinoplasty.
Aesthetics
African American noses require a specific appreciation for the appearance in harmony with the rest of the face, as changing the unique shape of the nose too much can make it appear inconsistent. The goal of an ethnic rhinoplasty is never to create a Caucasian-looking nose, and so the plastic surgeon must have a good grasp of ethnic features and how they contribute to the overall appearance while still correcting areas that the patient feels uncomfortable with. Generally, the African American nose is flatter, broader, and has a more rounded tip. It also can have thicker skin and softer cartilage.
Techniques
Some techniques are more often seen during African American rhinoplasties. Most commonly, the nose is augmented with cartilage grafts from the rib or ear to build up the low nasal bridge or tip that lacks protrusion. Wide nostrils can also be reduced if the nose is overly wide, and the nasal bones can be brought closer together to narrow the base. Because the skin of the nose can be thicker, it sometimes requires more aggressive tip grafting techniques in order to achieve tip refinement.
The goal of any rhinoplasty procedure is a nose that looks and feels natural in conjunction with the rest of the face. This includes preserving ethnic features that give the nose its original shape. However, African American patients can still find great, confidence-boosting results after their rhinoplasty with a facial plastic surgeon that understands their unique anatomy and aesthetic goals.
If you are interested in your ethnic rhinoplasty options and would like to schedule a consultation, contact our office.