Anesthesia and Facelift Surgery
Anesthesia and Facelift Surgery
Revised on January 23, 2022 by
Dr. Anthony Corrado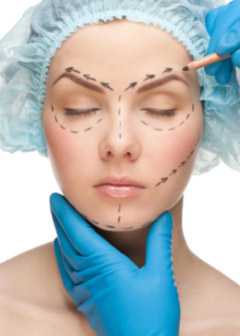 The type of anesthesia required during facelift surgery is dependent upon the type of facelift being performed by your surgeon. Anesthesia acts as a pain reliever, ensures you don't remember the actual surgery, and immobilizes you so there is no movement during your surgery. Anesthesia can also elicit unconsciousness and eliminate or reduce rapid heartbeat, rapid breathing, and a rise in blood pressure.
The type of anesthesia recommended by your surgeon will be based on many factors, including the type of facelift procedure you are undergoing, the amount of time needed for your surgery, if you are combining your facelift with any other procedures, and your current health.
The main types of anesthesia used for facelifts are local anesthesia, IV sedation, and general anesthesia. Local anesthesia or IV sedation can be done in an office-based surgical suite or surgery center, but general anesthesia is typically administered in a hospital setting.
Local Anesthesia
Local anesthetics numb the immediate treatment area and patients may also receive local anesthetics in conjunction with sedation during a facelift or other type of facial plastic surgery.
IV Sedation
The use of IV sedation is where the anesthesiologist places an IV and monitors a patient's vital signs. The patient can range from moderate to deep sedation. In procedures such as facelifts, eye lifts, and brow lifts, IV sedation can be a good anesthesia option.
General Anesthesia
General anesthesia is used for more complex surgical procedures such as more advanced facelifts. It puts you completely to sleep and is usually given via an IV, inhaled gases, or both. IV sedation and general anesthesia allow for a pain-free facelift experience, and patients remember none of the procedure itself.
Dr. Corrado serves patients from the greater Delaware Valley area such as South Jersey, the Jersey Shore, Philadelphia, the Mainline, and Delaware County. He also offers care for out-of-town patients as well. Dr. Corrado offers the latest advances in the fields of facial plastic and reconstructive surgery and cosmetic surgery. He provides his patients with the full spectrum of facial cosmetic and reconstructive procedures. His areas of special interest include laser skin resurfacing, facelift, mini facelift, blepharoplasty, and facial fat grafting. Schedule your consultation with Dr. Anthony Corrado today.