Arnica Montana Philadelphia
Arnica Montana Philadelphia
Published on November 10, 2015 by
Dr. Anthony Corrado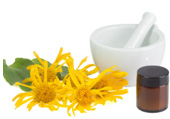 Are you worried that you may experience bruising after facial plastic surgery? If so, Dr. Corrado may recommend that you take Arnica Montana as a natural bruise treatment.

What is Arnica Montana?
Arnica Montana is daisy-like plant native to Europe, Asia and North America that is sometimes referred to as the mountain daisy or leopard's bane. This perennial plant grows 1-2 feet with flowers that resemble daisies.

Fresh and dried arnica flowers have been crushed and used for medicinal purposes since the 1500's to treat a number of ailments including stomach aches, insect bites, bruises, swelling, sprains and sore muscles.

While there are a variety of different products and uses for arnica, homeopathic Arnica Montana is the most common type designed for use as a natural treatment for bruising.

How Does Arnica Montana Help Bruising?
The Arnica Montana plant contains compounds that are especially important for the reduction of bruising and swelling from soft tissue injury or trauma.

Arnica is believed to increase the flow of blood around bruised tissue causing escaped fluids to be absorbed by the body. The absorption of the fluids makes black and blue marks go away faster and reduces the swelling by relieving the pressure on nerve endings.

Herbal Arnica vs. Homeopathic Arnica
Arnica Montana is the botanical herb from which a wide variety of products can be made including teas, creams & lotion, pills, tablets or liquids. In herbal preparations, Arnica Montana taken orally can cause problems. However, in its homeopathic form, Arnica Montana has been safely used for hundreds of years to treat bruising and swelling.

Arnica Montana is a Natural Remedy
As a natural treatment option, a homeopathic remedy should not contain any artificial ingredients, colorants or dyes. In fact, single remedy formulations contain just 3 ingredients: Arnica Montana (active ingredient) lactose and gum acacia (inactive ingredients).

Types of Arnica Montana Products
Today, Arnica Montana products can be found over-the-counter in cream, gel, ointment, tincture, salve and tablet form. For best results, talk with Dr. Corrado about the best course of action and combination of Arnica Montana products for you.

Measuring Strength or Potency
Homeopathic efficacy is measured in potency, not milligrams. The potency is indicated on the packaging. The most commonly used potencies include 6X, 12X and 30X. If you're preparing for a plastic surgery procedure, potencies like 30X Arnica Montana tablets (bottle or blister pack) are ideal especially for facial plastic surgery.

Is Arnica Taken Before or After a Surgical Procedure?
Typically patients take begin treatment 2-3 days prior to a procedure, and continue on the supplement for up to 7 days after their procedure.

How is Oral Homeopathic Arnica Montana Taken?
Due to their delicate nature, homeopathic preparations are always delivered sublingually or under the tongue. When taking homeopathic tablets, drop the tablets into the lid of the bottle (not in your hand) and place the tablets under your tongue. This prevents the medication from rubbing off into your hand.


Bruising After Plastic Surgery
Arnica Montana is ideal for patients undergoing facial surgeries such as blepharoplasty (eyelid lift), rhinoplasty (nose reshaping), fat grafting and facelift, as well as non-surgical procedures such as Botox, Restylane, and Juvederm. Dr. Corrado typically recommends both oral and topical arnica due to the visibility of the face and resulting bruising and swelling.
Dr. Corrado serves patients from the greater Delaware Valley area such as, South Jersey, the Jersey Shore, Philadelphia, the Mainline, and Delaware County. He also offers care for out of town patients as well. Dr. Corrado offers the latest advances in the fields of facial plastic and reconstructive surgery and cosmetic surgery. He provides his patients with the full spectrum of facial cosmetic and reconstructive procedures. His areas of special interest include laser skin resurfacing, facelift, mini facelift, neck lift, blepharoplasty, and facial fat grafting. Schedule your consultation with Dr. Anthony Corrado by calling 1 (877) 481-FACE (3223).