The Benefits of a Facelift and Necklift
The Benefits of a Facelift and Necklift
Revised on March 2, 2021 by
Dr. Anthony Corrado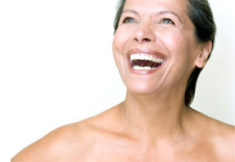 As part of the aging process, the skin of the face and neck progressively loses its elasticity along with a loss of volume in the mid-face. The effect of this causes the cheeks to become less defined, the mouth lines to deepen, and the jawline to soften thus giving rise to the 'turkey neck' effect. The eyes also may droop and the eyelids can give off a hooded appearance leading to an older or aged facial appearance.
These unwanted changes that we are all subject to can be reversed surgically with a face and/or neck lift which can also be combined with surgery to the eyelids. Dr. Corrado's goal with every facelift is to rejuvenate the face and neck while avoiding a tight or stretched look. Having a natural and youthful outcome is tantamount to the success of the procedure.
During a facelift, the scars are carefully hidden. The skin is tightened upwards and backwards for the temples, cheeks, and neck. In addition, the layer of muscle-like tissue which lies underneath the skin is also lifted to give a youthful result that is natural and long-lasting. This returns the face to a shape more reminiscent of previous years.
The decision as to which type of facelift is most suitable will depend on the specific results wanted, the structure of the face currently and the overall aging effect to date. Dr. Corrado may request the patient bring past photographs to the initial consultation in order to determine the most natural result.
The neck area is also a concern for many patients. When there is excessive loose skin present or separation of the muscles producing two bands, a neck lifting procedure may be necessary. Dr. Corrado consults with each patient to ensure the proper procedures are performed and desired outcomes are achieved.
Dr. Corrado serves patients from the greater Delaware Valley area such as South Jersey, the Jersey Shore, Philadelphia, the Mainline, and Delaware County. He also offers care for out of town patients as well. Dr. Corrado offers the latest advances in the fields of facial plastic and reconstructive surgery and cosmetic surgery. He provides his patients with the full spectrum of facial cosmetic and reconstructive procedures. His areas of special interest include facelift, mini facelift, blepharoplasty, and facial fat grafting. Schedule your consultation with Dr. Anthony Corrado today.