Benefits of Neck Lift
Benefits of Neck Lift
Published on November 10, 2014 by
Dr. Anthony Corrado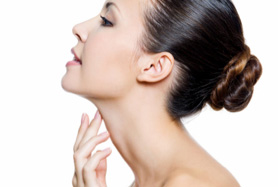 Sagging or fleshy jowls are the prominent signs of aging that can become noticeable even if your face is still youthful. Rapid weight loss can also be quite visible in the neck, causing premature aging. Loose skin, muscles and fat under the chin and jaw can create a saggy appearance or "turkey neck". This causes a lack of definition and can create a double chin. A neck lift can rejuvenate this area, giving you an overall younger appearance.
Benefits of a neck lift include:
Removing fat under the chin
Tightening neck muscles
Defining the jaw line
Reversing the "turkey neck"
Removing excess skin
Correcting loose jowls
Neck lift surgery can significantly improve a patient's appearance, making them seem years younger. A smooth, tight neck is a sign of youth and vitality. Unfortunately, the neck is one of the areas where the signs of aging tend to appear first.
Over the years, the neck skin and muscles gradually lose their tone and elasticity, leading to folds. In a neck lift surgery, the excess skin from the neck is removed and underlying muscles tightened. A neck lift is routinely done in combination with a face lift procedure providing overall facial and neck rejuvenation. A facelift, combined with neck lift can take years off a patient's appearance. Facelift and neck lifts are some of the most popular surgeries that Philadelphia Facial Plastic Surgeon, Dr. Anthony C. Corrado, performs. Philadelphia facelift and neck lift patients will meet with Dr. Corrado for a thorough facial evaluation , and he will assists his patients in determining the best course of action.
Dr. Corrado serves patients from the greater Delaware Valley area such as, South Jersey, the Jersey Shore, Philadelphia, the Mainline, and Delaware County. He also offers care for out of town patients as well. Dr. Corrado offers the latest advances in the fields of facial plastic and reconstructive surgery and cosmetic surgery. He provides his patients with the full spectrum of facial cosmetic and reconstructive procedures. His areas of special interest include laser skin resurfacing, facelift, mini facelift, neck lift, blepharoplasty, and facial fat grafting. Schedule your consultation with Dr. Anthony Corrado by calling 1 (877) 481-FACE (3223).