Facelift – Surgery Recovery Tips Philadelphia
Facelift – Surgery Recovery Tips Philadelphia
Published on April 18, 2014 by
Dr. Anthony Corrado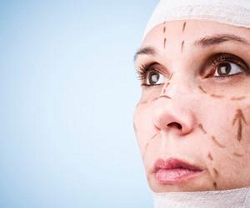 There are several things you can do to fight the signs of aging: eat right, exercise, hydrate, sleep well, and avoid prolonged sun exposure by faithfully wearing sunscreen when outdoors. However, the aging process eventually catches up with all of us. Often, patients desire the trained hand of a cosmetic surgeon who can subtly improve overall appearance. Dr. Anthony Corrado has helped hundreds of patients turn back the hands of time with a facelift, which helps remove wrinkles and reduce sagging and drooping of the skin.
The best results from this and any surgery come when patients follow these post-operative instructions.
What Is a Facelift?
During a facelift, incisions are made around the backs of the ears and the lower portion of the hairline. Through these incisions, excess skin tissue is removed and subtle adjustments are made. The skin is pulled tighter to reduce wrinkles and improve overall appearance.
What to Expect After Facelift Surgery
The first day following facelift surgery, it's important that you rest and stay well hydrated. Refrain from touching or disturbing the bandages or drainage tubes in place, as this can adversely affect healing.
While soreness and discomfort are to be expected, they can generally be managed through the use of pain medications that Dr. Corrado will recommend or prescribe. In the first few days, be sure to have a friend of family member with you to ensure you are recovering properly.
Dr. Corrado recommends that patients sleep in an elevated position, with the head and back at an incline rather than flat. This helps promote blood circulation in those critical first days after surgery.
What to Avoid While Recovering from Facelift Surgery
There are a few items that patients need to remember when recovering from a facelift:
• Patients should avoid washing their hair for at least two days after facelift surgery.
• Hot showers should be avoided for several days; water should instead be warm.
• Patients should be up and walking the next day after surgery to help promote circulation and prevent blood clots.
• Avoid all heavy lifting and bending over until Dr. Corrado tells you otherwise.
• Saunas and steam rooms need to be avoided until Dr. Corrado advises otherwise.
• Avoid alcohol consumption and smoking before surgery and in the weeks after until you are fully recovered.
What to Expect in the Weeks After Facelift Surgery
In the weeks following your Philadelphia facelift, you will be able to return to normal activities. You will return to see Dr. Corrado for several follow-up visits to ensure that you are healing properly. If you have any questions or concerns about the healing process, don't hesitate to contact Dr. Corrado and his staff.
Dr. Corrado serves patients from the greater Delaware Valley area, which includes South Jersey, the Jersey Shore, Philadelphia, the Mainline, and Delaware County. He also offers care for out-of-town patients.
Dr. Corrado offers the latest advances in the fields of facial plastic and reconstructive surgery and cosmetic surgery. He provides his patients with the full spectrum of facial cosmetic and reconstructive procedures. His areas of special interest include facelifts, mini facelifts, blepharoplasty, and facial fat grafting.
Schedule your consultation with Dr. Anthony Corrado by calling 1 (877) 481-FACE (3223).
Filed under:
facelift, surgery recovery tips, post-operative care, facelift recovery