Facial Fat Transfer Explained
Facial Fat Transfer Explained
Published on February 28, 2017 by
Dr. Anthony Corrado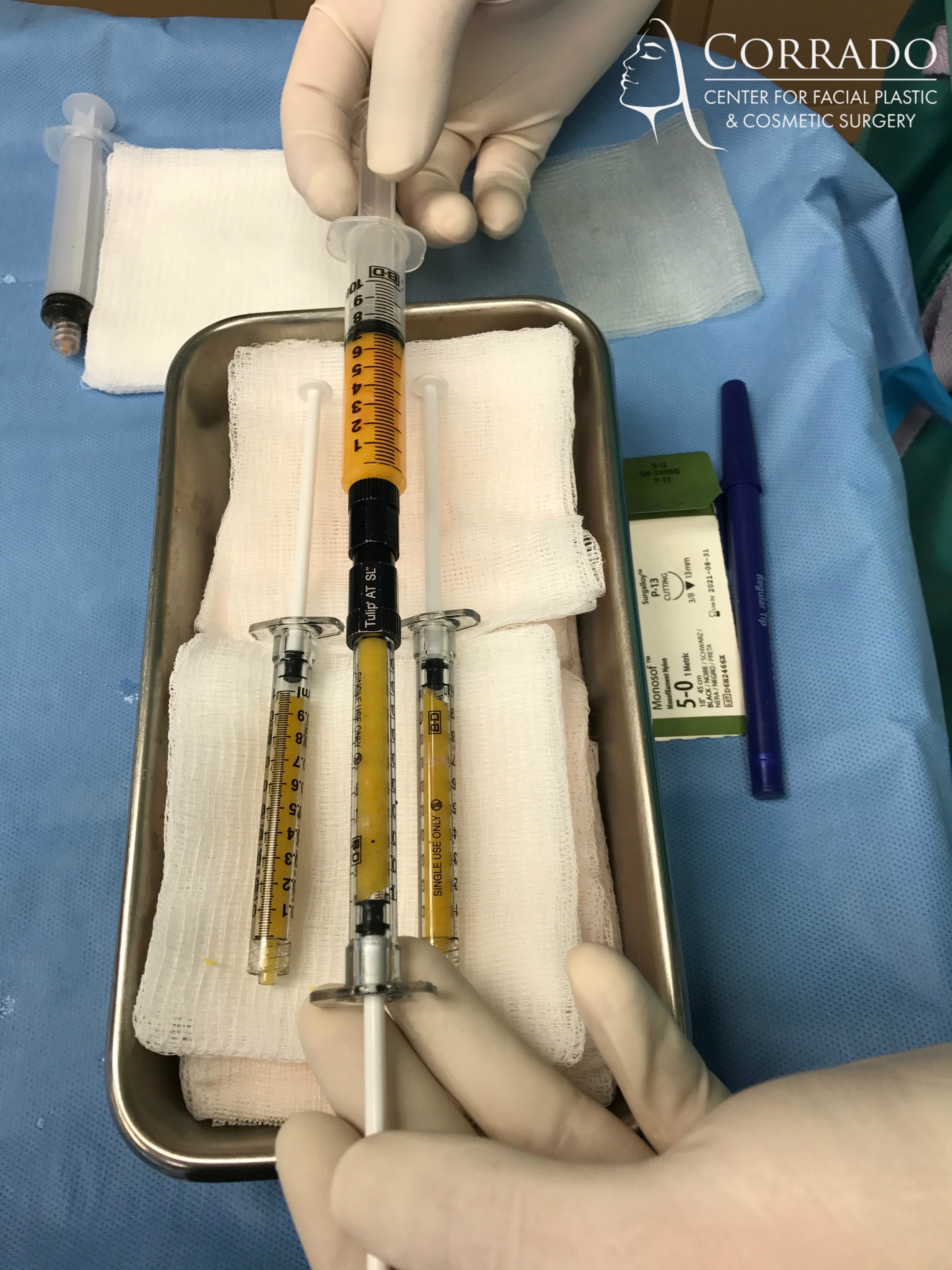 Facial Fat transfer is also referred to as facial fat grafting or facial fat injections. Plastic surgeons often call harvested fat "liquid gold," because of it's creamy gold like appearance. Simply put, facial fat transfer is a procedure involving fat removed from areas of the body with excess fat, which is then injected into areas of the face to add volume. Dr. Anthony Corrado is a facial plastic surgeon in Cherry Hill, NJ who is a specialist in facial fat transfer.
How is facial fat transfer performed? Dr. Corrado typically harvests fat from areas of the body such as the upper and lower abdomen, hips, and outer thighs. The fat removal process is essentially liposuction. The area is first injected with a local anesthetic, followed by a small incision made to insert a cannula connected to a syringe to extract the fat. Once the fat has been removed, it goes through a purification process to remove any impurities. The fat is then transferred to small syringes which are used to inject it into the face. A tiny incision is made at the site receiving the fat. A tiny needle or cannula is used for depositing the fat beneath the skin within the tissue layers. This is repeated until the appropriate amount of volume has been added. Facial fat transfer is safe, long-lasting, and produces natural-looking results. Every year, Dr. Corrado treats countless women and men in Cherry Hill, NJ with fat transfer to the face who are pleased with their results.
Who should consider facial fat transfer?
You have areas of the face that look creased or sunken in
You want a more permanent correct than fillers can provide
You want to add volume to further enhance your appearance
You want to improve scarring or asymmetry
What areas of the face can be improved with fat transfer?
Forehead
Upper or lower eyes
Temples
Nose
Cheeks
Jowls
Lips
Chin
Considerations
Advantages
Fat used from your own body is a natural alternative compared to dermal fillers. There are reduces chances of allergic reactions or other complications resulting from a manufactured substance.
Fat transfer is safe, long lasting, and more cost effective
Fat transfer is a minimally invasive procedure which can be performed under local anesthesia
Disadvantages
Facial fat transfer is more involved, takes longer to perform, and requires more recovery time than injecting dermal fillers
More expensive in the short term
There is no way to predict what percentage of fat will survive the transfer, therefore additional treatment may be needed to achieve optimal results
Are you a good candidate for facial fat transfer? The purpose of fat injections is to add volume. You are a good candidate if you have facial creases or lines, thin lips, hollowing of the eyes or temples, flat cheeks, mild skin laxity around the jawline, acne scars, uneven nose, or other irregularities. The best way to know if you are a good candidate is to visit facial plastic surgeon Dr. Anthony Corrado in Cherry Hill, NJ. He is an expert fat transfer doctor who has successfully performed hundreds of these procedures over his career.
For more information or to schedule a consultation, please call 877. 481.3223 or email [email protected] https://www.dranthonycorrado.com/plastic-surgery-procedures-philadelphia/face/fat-grafting/
Filed under:
dr. anthony corrado, cherry hill, facial fat transfer, dermal filler