Juvéderm VOLUMA – Fillers Philadelphia Volume
Juvéderm VOLUMA – Fillers Philadelphia Volume
Published on February 6, 2014 by
Dr. Anthony Corrado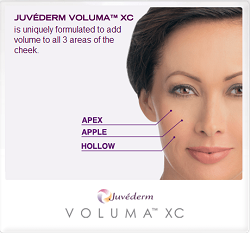 What is Juvéderm™ VOLUMA™?
Juvéderm VOLUMA is the latest hyaluronic acid filler specifically designed to restore volume in areas of loss. Dr. Anthony Corrado of Philadelphia recommends it for a subtle lift, helping to restore contour and a more youthful profile for up to 2 years. Common areas include the cheeks, cheekbones, and chin. It can also be used to add definition to the jaw line.
How does Juvéderm VOLUMA help me look younger?
As we age, facial fat loss, gravity, and loss of the skin's natural elasticity lead to a narrower, less youthful forehead and temple area, and a wider, heavier jaw line.
Juvéderm VOLUMA can restore balance to the face by adding volume to areas of loss due to aging or extreme weight loss. The result is a softer and more youthful appearance.
Which areas are Juvéderm VOLUMA typically injected into?
Juvéderm VOLUMA is frequently used to increase volume in the cheeks, cheekbones, and chin. As the filler is placed deep within the tissues, it adds support to the overlying skin and restores facial contours.
Juvéderm VOLUMA is used differently from the other Juvéderm products, such as Juvéderm XC. Juvéderm XC is injected more superficially and tends to target more surface irregularities. It smoothes out moderate to severe wrinkles and folds around the nose and mouth, like the nasolabial folds and marionette lines. It fills fine vertical lines around the mouth and helps to add volume to the lips. Juvéderm Voluma seeks to add more facial volume than its predecessors, specifically volume to the cheek area.
How long does Juvéderm VOLUMA last?
It is clinically proven to last up to 2 years with optimal treatment.
What are the side effects of Juvéderm VOLUMA?
Side effects are moderate and generally last 2 to 4 weeks. Dr. Corrado says these can include temporary reactions at the treatment site such as tenderness, swelling, firmness, lumps/bumps, bruising, pain, redness, discoloration, and itching.
If you would like to learn more about Juvéderm VOLUMA and how it can help to improve your appearance, contact us to schedule a complimentary consultation with Philadelphia facial cosmetic surgery expert Dr. Anthony Corrado. 1-877-481-FACE.
Filed under:
volume, Juvéderm voluma, fillers, injectables