Laser Skin Resurfacing
Laser Skin Resurfacing
Published on September 25, 2014 by
Dr. Anthony Corrado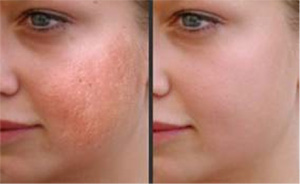 Laser skin resurfacing is a cosmetic procedure that rejuvenates the skin and reduces the effects of the sun, aging, and certain skin conditions. The treatments are safe, convenient and cost effective, especially when compared to other surgical options.
What is Laser Skin Resurfacing?
This is a procedure for eliminating and diminishing imperfections on the skin's surface. During laser skin resurfacing, the damaged skin cells are removed layer by layer until a smoother, more aesthetically pleasing appearance is visible.
Who is a Candidate for Laser Skin Resurfacing?
Laser skin resurfacing is especially effective for patients with lines, wrinkles, uneven pigmentation, or superficial facial scars, such as acne scarring, that does not respond to other types of treatments. The ideal candidate for laser skin resurfacing has elastic, non-oily skin that isn't prone to scarring. It is important that patients share all medical conditions and prescription medications in their consultation with Dr. Corrado in order to ensure there are no adverse reactions to the laser.
Dr. Corrado serves patients from the greater Delaware Valley area such as, South Jersey, the Jersey Shore, Philadelphia, the Mainline, and Delaware County. He also offers care for out of town patients as well. Dr. Corrado offers the latest advances in the fields of facial plastic and reconstructive surgery and cosmetic surgery. He provides his patients with the full spectrum of facial cosmetic and reconstructive procedures. His areas of special interest include laser skin resurfacing, facelift, mini facelift, blepharoplasty, and facial fat grafting. Schedule your consultation with Dr. Anthony Corrado by calling 1 (877) 481-FACE (3223).