Non-Surgical "Liquid" Rhinoplasty – What is it?
Non-Surgical "Liquid" Rhinoplasty – What is it?
Published onJune 25, 2018 by
Dr. Anthony Corrado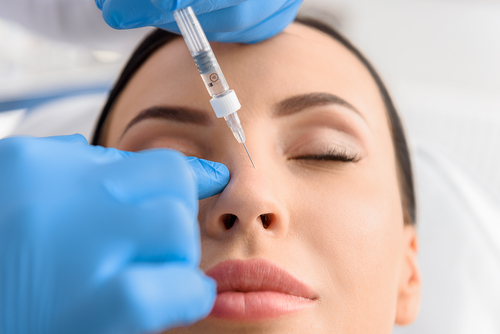 Non-Surgical, or Liquid rhinoplasty, refers to the technique of using a dermal filler to improve the appearance of the nose. With advances being made in the quality and longevity of injectable fillers, more and more Individuals looking to make subtle improvements to the appearance of their nose without surgery, are turning to non-surgical rhinoplasty.
Facial plastic surgeon, Dr. Anthony Corrado, performs "liquid" rhinoplasty to create instant results in the appearance of the nose by filling in depressions, smoothing out sharp angles and refining small cosmetic flaws of the nose. Dermal fillers such as Juvederm, are popular hyaluronic acid based fillers used to perform liquid rhinoplasty. Not only are results seen immediately, but the effects are also reversible in the rare event a patient does not like the enhancements made. Using filler is a great way to preview aesthetic changes without undergoing permanent surgical correction. It is important to understand filler is not a permanent solution. Depending on the type of filler used, results may last anywhere 6-12 months, although individual patient results may vary. Filler injected into the nose tends to last longer than filler placed in high movement areas such as the lips. To maintain results, you will need to continue re-treatment as needed.
Liquid rhinoplasty cannot be used to make dramatic changes, such as reduce the size of a larger nose, but it can be helpful in creating better symmetry, reducing visibility of contour irregularities, minimizing the appearance of a hump on the bridge of the nose, improving the shape of a flat bridge, and correcting issues created by previous surgical rhinoplasty.
The great thing about a liquid rhinoplasty is that it can be performed in-office in just 15 minutes! There is no downtime and results are seen immediately!
If you would like to see if you are a candidate for liquid rhinoplasty, contact Dr. Anthony Corrado.