Non-Surgical Rhinoplasty in Philadelphia
Non-Surgical Rhinoplasty in Philadelphia
Published on December 27, 2017 by
Dr. Anthony Corrado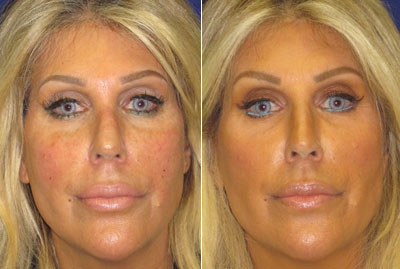 Nonsurgical Rhinoplasty in Philadelphia is performed by board-certified facial plastic surgeon Dr. Anthony Corrado.
Dr. Corrado specializes in non-surgical and surgical procedures for the face and neck only. This unique specialization means Dr. Corrado performs more facial procedures than most surgeons and he is able to hone in on improving and refining traditional techniques to further advance his patients' experience and results
While Dr. Corrado performs a large number of rhinoplasty procedures at his Philadelphia area practice, he also offers non-surgical rhinoplasty for individuals who prefer to avoid surgery or are medically ineligible for surgery. Non-surgical rhinoplasty in Philadelphia will correct issues such as:
Noses with a wide flat bridge
Noses with asymmetry
Noses with depressions
Noses with small humps or bumps
Correction of prior nose jobs which resulted in a skin slope deformity
How Non-surgical Rhinoplasty is performed
Dr. Corrado performs non-surgical rhinoplasty with the Juvederm family of fillers. Some filler options are formulated with a numbing agent to reduce discomfort during the treatment. If Dr. Corrado uses a filler which does not, the option is available for him to apply a topical anesthetic. He will then precisely inject the filler into the area being corrected. During the procedure, Dr. Corrado will allow you to see the progression of the treatment to ensure the changes are heading in the direction you wanted. The amount of filler needed varies from person to person. Dr. Corrado will meet with you prior to your treatment to outline exactly what to expect.
Non-surgical rhinoplasty usually takes no more than 30 minutes. There is virtually no downtime and results are seen immediately! Some individuals may experience tenderness, mild swelling, or mild bruising for a few days post-treatment. Most symptoms do not hinder a person's daily activities.
Candidates for non-surgical Rhinoplasty
Both men and women in Philadelphia and the surrounding areas can benefit from non-surgical rhinoplasty. If your nose requires minimal changes and you prefer to avoid surgery, then non-surgical rhinoplasty may be right for you. Dr. Corrado will evaluate your nose and give you an honest assessment so you can make an informed decision. It is important to understand filler is not permanent, so re-treatment will be ongoing to maintain results
If you reside in Philadelphia or the surrounding area and would like to learn more about non-surgical rhinoplasty, contact facial plastic surgeon Dr. Corrado.
Filed under:
dr. anthony corrado, non-surgical rhinoplasty, facial plastic surgeon