Philadelphia Upper Eyelid Lift ("Upper Blepharoplasty")
Philadelphia Upper Eyelid Lift ("Upper Blepharoplasty")
Published on April 23, 2015 by
Dr. Anthony Corrado
What is Upper Lid Blepharoplasty and Is It Right For Me?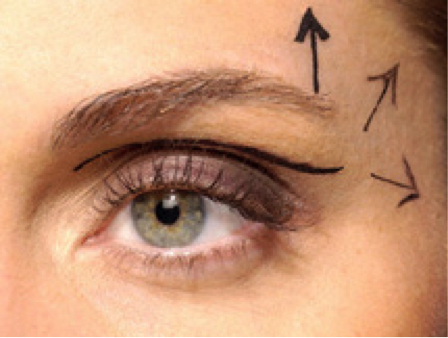 Our eyes are the windows to the soul, and are often what catches one's attention when looking in a mirror or meeting someone for the first time. We never have a second chance to make a first impression, and the eyes convey age quite readily and you can easily seem older than you are or feel. Droopy and puffy eyelids can make you look tired even if you are fully rested, and can even result in impaired vision. Patient in the greater Philadelphia area seek out prominent facial plastic surgeon, Dr. Anthony Corrado, to help correct these issues with upper lid blepharoplasty.
Because of this, over 100,000 Americans each year choose to have an Upper Lid Blepharoplasty to correct these issues. By removing the excess skin, the eyelid once again becomes taught, and not only rejuvenates the overall look of the eye, but allows the eye to open properly in order to correct any resulting vision issues.
Am I a Good Candidate for Upper Lid Blepharoplasty?
As with all facial plastic surgery, realistic expectations and sound physical and mental health are required. During the consultation with Dr. Corrado, he will discuss your thoughts and feelings about surgery to ensure it's the best course of action before proceeding. Upper lid blepharoplasty cannot improve a sagging eyebrow, crow's feet, or dark circle, and Dr. Corrado will share with you all of the facts prior to surgery so you are well informed. He may also recommend a brow lift or an additional procedure in order to ensure optimal, long-lasting results.
Upper Lid Blepharoplasty can be performed without the need for general anesthesia, thus reducing risk to the patient. Dr. Corrado will make an incision in the upper lid crease in order to reduce the visibility of scars inside the natural folds of the lid. Excess skin and fat are then removed, and a very fine suture is used to close the incisions, ensuring a minimal level of visible scars. This results in a more open and refreshed eye, thus offering rejuvenation to the entire face.
After the surgery, downtime and discomfort are typically minimized due to the use of local anesthesia versus general anesthesia. A patient can typically expect to have minor swelling and bruising at first, but it tends to diminish 7 to 10 days post surgery.
Dr. Corrado is a double board certified facial plastic surgeon and serves patients from the greater Delaware Valley area such as, South Jersey, the Jersey Shore, Philadelphia, the Mainline, and Delaware County. He also offers care for out of town patients as well. Dr. Corrado offers the latest advances in the fields of facial plastic and reconstructive surgery and cosmetic surgery. He provides his patients with the full spectrum of facial cosmetic and reconstructive procedures. His areas of special interest include laser skin resurfacing, facelift, mini facelift, blepharoplasty, and facial fat grafting. Schedule your consultation with Dr. Anthony Corrado by calling 1 (877) 481-FACE (3223).