Treating the Aging Lower Eyelid with Blepharoplasty
Treating the Aging Lower Eyelid with Blepharoplasty
Published on January 30, 2018 by
Dr. Anthony Corrado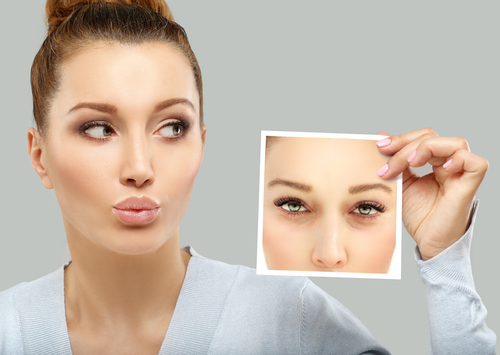 Bags under the eyes are a more common problem than you might think. Aging is the number one culprit for this frustrating cosmetic issue. While the condition is typically not a sign of any serious medical condition, it can cause a tired aged appearance that some people feel is concerning enough to warrant treatment.
What Causes Puffy, Swollen Eyes
The muscles that support the eyelids can weaken as you age. As a result, this can cause the fatty tissue surrounding the eyes to protrude, causing it to be visible in the form of "bags" in the lower eyelid region. Puffy eyes are a common symptom of the aging process, but may also be caused by hereditary factors or lifestyle choices. For example, consuming too much salt, drinking a lot of alcohol, or not getting enough sleep, can worsen the appearance of eyelid bags. Skin laxity and fine wrinkles can also cause the lower eyelid region to appear aged.
Cosmetic Treatments for Aging Lower Eyelids
The most common procedure for treating bags under the eyes is known as a lower blepharoplasty. The procedure involves placing a carefully hidden incision inside the lower eyelid, followed by removing or repositioning the displaced fatty tissue. If skin tightening is needed, this will be addressed at the same time. The result is a refreshed more youthful appearance. Many times fractionated CO2 laser resurfacing, can also be used in conjunction with lower blepharoplasty to help improve fine lines and wrinkles. A skilled facial plastic surgeon will ensure a natural look while maintaining the function of the lower eyelid muscles. Some patients are candidates for lower blepharoplasty as a standalone procedure, while others may require lower eyelid surgery in conjunction with fat transfer or filler to address a hollowed-out appearance under their eyes. Each patient has unique goals and cosmetic issues which require a personalized treatment plan.
Dr. Anthony Corrado, facial plastic surgery in Cherry Hill, New Jersey, specializes in lower eyelid surgery. To be evaluated for lower eyelid surgery, contact Dr. Corrado's office to schedule your personal consultation.