What Can an Ethnic Rhinoplasty Do?
What Can an Ethnic Rhinoplasty Do?
Published on August 5, 2019 by
Dr. Anthony Corrado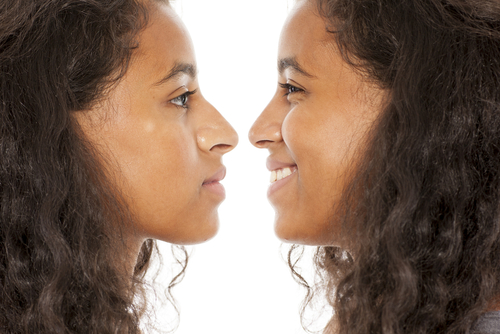 An ethnic rhinoplasty is a procedure designed for non-Caucasian individuals and concerns. Dr. Corrado understands that every patient is different when it comes to their anatomy, concerns, and goals. A patient's ethnic background is another important factor that needs to be taken into account when planning a rhinoplasty procedure. Here's what an ethnic rhinoplasty can help you achieve:
Improve a low bridge
A low bridge is one common concern that Asian as well as African American patients express. With an ethnic rhinoplasty, the bridge of the nose can be built up using cartilage grafting techniques. This cartilage is taken from another area of the body and placed on the bridge of the nose to improve shape and projection.
Address a large nasal tip
The tip of the nose is another area where many patients have concerns. Asian patients are often bothered by an overly wide nasal tip that throws off the symmetry of their features. African American patients also express concerns with a bulbous (round) nasal tip and wide nostrils. The ethnic rhinoplasty can address these concerns by subtly narrowing the nasal tip and adding projection and definition.
Eliminate a hump in the bridge
A hump in the bridge is a common concern among Caucasian individuals, and is especially prominent for Mediterranean patients. A rhinoplasty can eliminate a hump in the bridge by reshaping the cartilage for a straighter appearance.
Address a wide bridge
Many ethnic patients are unhappy with a wide nasal bridge, including Hispanic, Middle Eastern, and African American patients. During the ethnic rhinoplasty, the bridge of the nose is reshaped to narrow its appearance.
Your customized ethnic rhinoplasty
No matter what ethnicity you are, Dr. Corrado will ensure that your unique background, anatomy, concerns, and goals are taken into account. Dr. Corrado's goal is to make a natural-looking enhancement, not to take away your ethnic features. After an ethnic rhinoplasty, you can feel more confident with improved balance to your features.
An ethnic rhinoplasty requires an advanced level of expertise. Dr. Corrado is a board certified facial plastic surgeon and is an expert on the rhinoplasty procedure. To get started on your customized ethnic rhinoplasty procedure, schedule your consultation with Dr. Corrado today.