The Benefits of Non-Invasive Procedures
The Benefits of Non-Invasive Procedures
Published on September 3, 2014 by
Dr. Anthony Corrado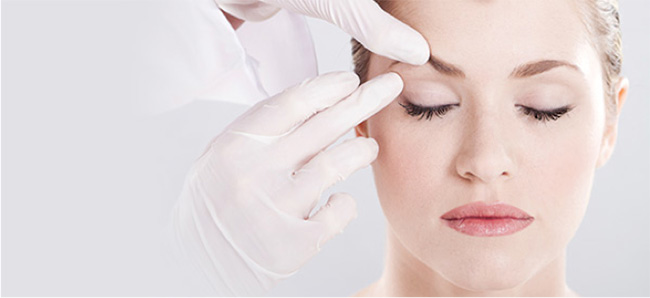 Many of the latest facial cosmetic treatments are now non-invasive. The appearance of wrinkles, sun spots, unwanted veins and other signs of aging can all be effectively removed without actual surgery.
Non-invasive treatments can affect tremendous cosmetic results. Patients who choose this option may benefit from one or more of the following:
Little or no pain
Shorter recovery time
Reduced risk of side effects
Lower cost
Although non-invasive treatments can be used for a wide variety of skin imperfections, they cannot be used to treat sagging skin or other more significant signs of aging. Additionally, the results of non-surgical treatment are not usually permanent, so repeated treatments are generally needed to maintain results.
Botox® Cosmetic
Botox treatments are one of the most popular non-invasive procedures in cosmetic surgery and are growing even more popular. They temporarily reduce or eliminate frown lines, forehead creases, the "11" lines between the eyebrows, crow's feet near the eyes and thick bands in the neck.
Chemical Peel
A chemical peel is a resurfacing technique used to improve the appearance of the skin. During the peel, a chemical solution is applied which removes the outer damaged layers. The face then regenerates new skin replacing the older damaged layers.
ViPeel
The Vi Peel is a revolutionary skin resurfacing treatment found in Cherry Hill, New Jersey which provides results similar to traditional chemical peels with a fraction of the downtime. The treatment was popularized in Southern California and is known as "The Lunchtime Peel" because of the ease of the procedure and rapid recovery afterwards. The peel reverses the aging process while providing a fresher, clearer complexion in usually just one session.
CO2 Fractional Laser
The Harmony Pixel Laser is a fractional ablative laser that represents the best of both worlds for skin resurfacing: it combines the proven effectiveness of an ablative approach with the patient comfort level and convenience of a non-ablative approach.
Juvéderm® XC
JUVÉDERM® is an injectable gel that is a "next-generation" smooth consistency gel dermal hyaluronic filler that helps to instantly restore your skin's volume and smooth away facial wrinkles and folds like "smile lines" or "parentheses" (nasolabial folds) and "marionette lines" (oral commissures).
Laser Skin Resurfacing
Lasers are currently one of the most effective tools for eliminating wrinkles. The lasers' unique advantage over other resurfacing methods is their ability to tighten the skin. A successful procedure can make patients look 10 to 20 years younger, and the results can last for up to a decade.
Intense Pulsed Light
Intense Pulsed Light technology is a treatment that can mitigate a variety of skin conditions including skin imperfections, birthmarks, and other blemishes. IPL offers a safe, non-invasive alternative that can be customized to a patient's individual skin type; thereby, providing superior cosmetic results.
Restylane®
Restylane® is a cosmetic type of dermal filler made of non-animal based hyaluronic acid and has helped many patients in the Cherry Hill, New Jersey area. It was FDA-approved in 2003 for the correction of moderate to severe facial wrinkles and folds, such as nasolabial folds, the lines between the nose and mouth. Upon being injected beneath the skin's surface, the gel adds natural volume and lift to smooth wrinkles and folds.
Dr. Corrado serves patients from the greater Delaware Valley area such as, South Jersey, the Jersey Shore, Philadelphia, the Mainline, and Delaware County. He also offers care for out of town patients as well. Dr. Corrado offers the latest advances in the fields of facial plastic and reconstructive surgery and cosmetic surgery. He provides his patients with the full spectrum of facial cosmetic and reconstructive procedures. His areas of special interest include facelift, mini facelift, blepharoplasty, and facial fat grafting. Schedule your consultation with Dr. Anthony Corrado by calling 1 (877) 481-FACE (3223).