Concerns Addressed During Asian Rhinoplasty
Concerns Addressed During Asian Rhinoplasty
Published on August 16, 2018 by
Dr. Anthony Corrado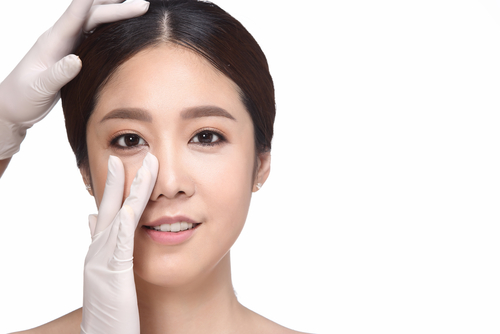 Every nose is unique when it comes to shape, size, and projection. Part of what makes our nose unique is our ethnic background. During an Asian rhinoplasty, the concerns and goals surrounding an Asian nose are addressed to enhance its appearance. If you're of Asian heritage, you might have some of the following concerns addressed during your rhinoplasty procedure:
Low nasal bridge
While many individuals choose to have a rhinoplasty procedure due to an overly large nose, patients of Asian heritage often have a low and flat nasal bridge that they would like to be better defined. During an Asian rhinoplasty procedure, the nasal bridge can be built up using a small amount of grafted cartilage and other tissue. Typically diced cartilage wrapped in fascia is an excellent means of dorsal augmentation.
Lack of projection
Along with a flat nasal bridge, Asian patients might also lack projection of the tip of their nose. Increased tip projection is achieved using a columellar strut graft, using cartilage from the septum, ear, or the rib to build up the nasal tip and achieve better projection.
Bulbous/Poorly Defined Tip
A typically important component to Asian Rhinoplasty is nasal tip refinement. The tip of the nose typically is overly round and poorly defined. Many techniques are employed to provide tip refinement in the Asian nose. Cartilage grafting, most notably Shield Grafts, are used to achieve better tip definition. Nasal tip suture techniques also help to narrow an overly round tip. At the time of your consultation, the nose will be examined, and the appropriate tip refinement strategy will be discussed.
Wide nostrils
Patients who are unhappy with the appearance of flared or overly large nostrils can have an Asian rhinoplasty with a nostril reduction. Nostril narrowing allows the patient to achieve better nasal and facial balance.
The goal of Asian rhinoplasty is to enhance the nose while keeping it compatible with the existing Asian features.
If you're interested in learning more about Asian rhinoplasty and what it can do for you, contact our office today. A consultation with Dr. Corrado can help determine what techniques will allow you to achieve the nose you desire!