How to Detect Skin Cancer
How to Detect Skin Cancer
Published on August 19, 2014 by
Dr. Anthony Corrado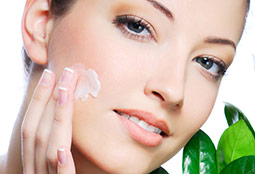 With fall right around the corner, it's important to remember that sun protection vigilance is important even outside of summer. You should examine your skin head to toe once a month, looking for any suspicious lesions as self-exams can help you identify potential dangers early, when they are most likely to be cured.
For a successful self-exam, you must know what you're looking for. As a general rule, to spot either melanomas or non-melanoma skin cancers, you must pay close attention to any new moles or growths, and any existing growths that begin to grow or change significantly. Lesions that change, itch, bleed, or don't heal are also warning signs.
It is extremely vital to catch melanoma early, so physicians have developed a specific test for early recognition of the disease: the ABCDEs.
The ABCDE's of Melanoma—the Deadliest Form of Skin Cancer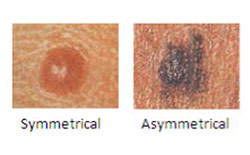 A – Asymmetry
If you draw a line through this mole, the two halves will not match.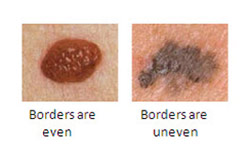 B – Borders
The borders of an early melanoma tend to be uneven. The edges may be scalloped or notched.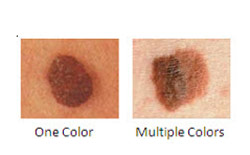 C – Color
Having a variety of colors is another warning signal. A number of different shades of brown, tan or black could appear. A melanoma may also become red, blue or some other color.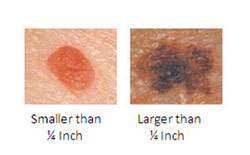 D – Diameter
Melanomas usually are larger in diameter than the size of the eraser on your pencil (1/4 inch or 6 mm), but they may sometimes be smaller when first detected.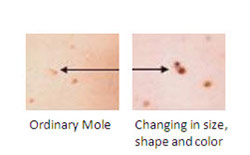 E – Evolving
Any change — in size, shape, color, elevation, or another trait, or any new symptom such as bleeding, itching or crusting — points to danger.
Dr. Corrado serves patients from the greater Delaware Valley area such as, South Jersey, the Jersey Shore, Philadelphia, the Mainline, and Delaware County. He also offers care for out of town patients as well. Dr. Corrado offers the latest advances in the fields of facial plastic and reconstructive surgery and cosmetic surgery. He provides his patients with the full spectrum of facial cosmetic and reconstructive procedures. His areas of special interest include laser skin resurfacing, facelift, mini facelift, blepharoplasty, and facial fat grafting. Schedule your consultation with Dr. Anthony Corrado by calling 1 (877) 481-FACE (3223).