Microcannula Technology for Filler Injections
Microcannula Technology for Filler Injections
Published on October 23, 2014 by
Dr. Anthony Corrado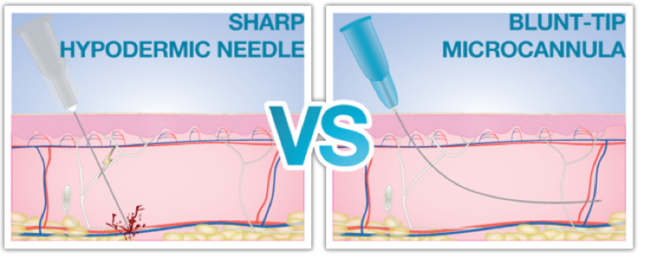 Once we enter our early 40's and 50's, we begin losing fat in the cheek and under eye areas, resulting in a tired and worn out look, regardless of how much sleep we get. Replacing the volume in these areas is key to restoring the youthful look.
As an alternative to a facelift, hyaluronic acid fillers, such as the new Juvederm Voluma XC, are very effective in putting that dimension back by replacing the volume has been lost. Dr. Corrado is one of the few physicians utilizing the FDA approved microcannula technology for filler injections. This new technology is revolutionizing the way cosmetic surgeons are performing filler injections, resulting in substantially less pain, bruising, swelling, complications and recovery time than traditional methods. There is typically no downtime at all for most patients.
Blunt cannulas have a rounded tip and are very flexible, unlike a typical needle.
The advantages of microcannula include:
The bruising and swelling post procedure are dramatically reduced resulting in little to no downtime versus the typical two weeks.
Discomfort during the procedure is much improved for most patients. Previous procedures required up to 10 injections instead of the 2 that now provide the same results.
Procedure time is also reduced, as local anesthetics are not required, so the appointment takes only minutes.
Dr. Corrado serves patients from the greater Delaware Valley area such as, South Jersey, the Jersey Shore, Philadelphia, the Mainline, and Delaware County. He also offers care for out of town patients as well. Dr. Corrado offers the latest advances in the fields of facial plastic and reconstructive surgery and cosmetic surgery. He provides his patients with the full spectrum of facial cosmetic and reconstructive procedures. His areas of special interest include facelift, mini facelift, blepharoplasty, and facial fat grafting. Schedule your consultation with Dr. Anthony Corrado by calling 1 (877) 481-FACE (3223).