The Chin Is In
The Chin Is In
Published onJune 28, 2018 by
Dr. Anthony Corrado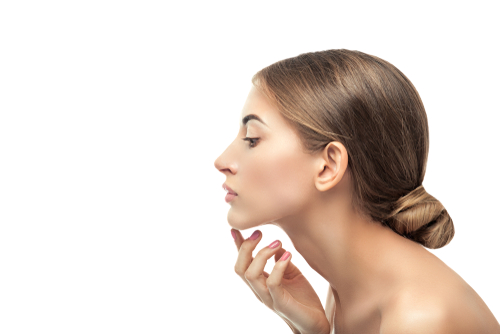 While the nose may be a main focal point of the face, there is no denying the importance of a strong, defined chin for overall facial balance. In addition, a strong bone structure helps the face hold up longer against father time. If the chin is too prominent or doesn't project enough, it can make the nose and neck appear less aesthetically pleasing, particularly when viewing one's profile.
A weak or under projecting chin is a result of how the bones form during early facial development. In some cases, the structure of the chin can be hereditary. A weak chin is more common than a strong chin and is often more obvious from the profile view vs. the front view. If an individual has a larger nose, it can cause the chin to look even weaker. Chins can be made stronger, weaker, longer, shorter, wider or narrower depending on the patient's cosmetic goals.
Surgical Options
Chin augmentation is a very straightforward procedure that can improve a person's appearance by creating harmony of the facial features. Surgical chin augmentation uses a silicone implant placed through a tiny incision under the chin. Chin implants come in a variety of shapes and sizes and can be customized to achieve the desired goal. Chin augmentation with an implant can be performed as a stand-alone procedure, or combined with a facelift or neck liposuction for optimal profile improvement. Often times chin augmentation is performed in conjunction with rhinoplasty, as both procedures provide an excellent means of creating facial balance.
Non-Surgical Options
Injectable dermal fillers are an option for individuals who want to test out what they would look like before committing to a surgical procedure. Fillers can be used to temporarily augment the appearance of the chin. In just 15-20 minutes, filler can be injected to add volume and create definition and balance. There may be swelling, mild bruising and tenderness for a few days post-treatment. Fillers provide a more conservative reduction overall compared to implant surgery.
For more information about surgical or non-surgical chin augmentation, contact facial plastic surgeon Dr. Anthony Corrado.