The Benefits of a Rhinoplasty
The Benefits of a Rhinoplasty
Published on February 20, 2018 by
Dr. Anthony Corrado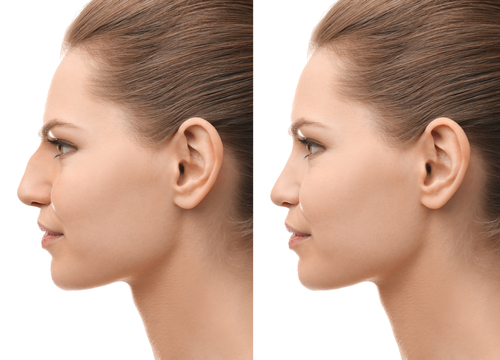 Our noses are the focal point of the face and play a key role in our facial aesthetics. Today, rhinoplasty is one of the most sought after facial plastic surgery procedures performed. If you have been considering making changes to the appearance of your nose we would encourage you to set up a consultation with Dr. Corrado to discuss your concerns.
What are the Benefits?
Even though a rhinoplasty is an invasive procedure that carries its own inherent risk, the benefits can be life-changing for patients. Some important benefits to cite if you are considering a rhinoplasty are:
Permanent Results – While the current trend for aesthetics is finding non-invasive ways to get surgical results, there is no permanent correction for the nose other than surgery. Also, non-surgical rhinoplasty with fillers is not able to provide the same level of correction as a surgical rhinoplasty, making not as optimal an option.
Enhanced facial balance – For cosmetic purposes, a rhinoplasty can take a large unbalanced nose to a proportionate nose that flatters a patient's face. Dr. Corrado is very talented when it comes to facial balance and aesthetics. He takes the time to discuss each patient's concerns for the best possible outcome.
Improved breathing – In addition to cosmetic reasons, many people have a rhinoplasty done in order to repair a deviated septum or to correct other breathing issues. breathing. A deviated septum can occur as a result of an injury or maybe that way from the time you were born. This impedes the nasal passages from staying open to full breathing potential. Functional rhinoplasty is a type of rhinoplasty procedure which focuses on nasal function.
Who is a Candidate?
Most individuals in good general health that are unhappy with the size, shape or function of their nose may be a candidate for nose surgery. In addition to good health, a positive attitude and realistic expectations are important for patients receiving a rhinoplasty; or any other cosmetic procedure.
Schedule a Consultation
If you're unhappy with your nose because of the way it looks or functions, a rhinoplasty may be able to correct your concerns with customized and long-lasting results. Patients interested in learning more about the benefits of a rhinoplasty should contact Corrado Center for Facial Plastic & Cosmetic Surgery today to schedule a consultation. Dr. Corrado will work with you to create a treatment plan that addresses your unique concerns.