Upturned Nose – Philadelphia Nose Job Rhinoplasty
Upturned Nose – Philadelphia Nose Job Rhinoplasty
Published on September 20, 2013 by
Dr. Anthony Corrado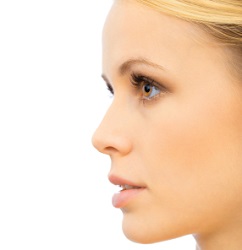 An upturned nose, also called a miss piggy nose, is shorter than the average nose and has a snout-like appearance; focus is drawn to the nostrils, because a larger amount of nostril region is exposed. Rhinoplasty is a viable option for remedying this facial issue.
In order to correct an upturned nose malformation, surgeons use various types of nasal grafts (organic implants of bone and cartilage). These grafts add strength to the area and alter the internal nasal architecture. These changes are reflected externally. After the grafts are surgically added, the patient must go through a brief recovery period. Once the swelling recedes, the patient will be able to fully enjoy the new nose.
Contact our office to set up an upturned nose rhinoplasty consultation. There, you'll speak with Dr. Anthony Corrado, a board-certified cosmetic surgeon in the Philadelphia area. If you've ever wished for a new nose, this is the first step in achieving your aesthetic goals.
Filed under:
nasal surgery, nose job, upturned nose, miss piggy nose